Nouveaux marque-pages | New Bookmarks
08/10/2009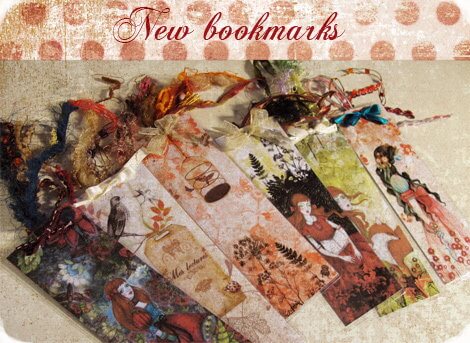 /FR
Certaines personnes m'avaient demandé une version allongée des marque-pages que j'avais réalisé jusqu'ici. C'est chose faite avec une série de marque-pages de 5 × 15 cm. Ils sont plastifiés pour être plus résistants et ont chacun un assemblage de fibres unique. Je me suis concentrée uniquement sur de nouveaux visuels : assortis à mes carnets pour certains, avec de nouvelles illustrations pour d'autres. J'espère qu'ils vous plairont !
Vous pouvez dès à présent les retrouver sur ma boutique en français ici et en anglais ici.
/EN
After I had released my first bookmarks collection, I received some requests for a more elongated version of those. So here they are: 5 × 15 cm laminated water-resistant bookmarks, each topped with a unique fibre assembly. The visuals the new bookmarks feature, are new as well: some are assorted with the notebooks; others feature brand new artworks.
I really hope you will find a bookmark to keep you company while you're reading your favourite book in this collection.
5 réponses à « Nouveaux marque-pages | New Bookmarks »