Santoro London
01/10/2012

/FR
C'est au mois de Mai dernier que l'équipe de Santoro London m'a contacté pour me proposer d'éditer certaines de mes illustrations en cartes postales. J'avoue qu'à la première lecture de leur e-mail, j'ai eu du mal à y croire. Cela fait en effet quelques années, que je passais sur leur site pour découvrir leur collection: Gorjuss que l'on ne présente plus, Miss Butterfly d'Anne Cresci, ou encore la ravissante Mirabelle…
C'est donc avec beaucoup d'enthousiasme que j'ai accepté de me lancer dans cette nouvelle aventure!
Dans un premier temps neuf modèles de cartes viendront enrichir leur collection Eclectic. J'ai eu la chance qu'ils sélectionnent des visuels qui me tiennent particulièrement à coeur: Le Guide, Miss Shadow, Bliss, La mécanique de mon coeur, Hope, Waiting for You, My Secret Garden, Poppies in the Sky et enfin Nature's Kingdom (toutes les cartes sont visibles sur ma page Facebook).
Ce sont des cartes doubles, imprimées sur un beau papier d'art légèrement texturé avec au dos un texte présentant mon univers, petit coup de cœur pour la carte La mécanique de mon cœur avec son vernis sélectif pailleté ; chaque carte est vendue avec son enveloppe de couleur à motif.
Je ne sais pas dans combien de temps ces cartes seront trouvables en France, mais si vous les croisez lors d'un voyage au Royaume-Uni, cela me ferait très plaisir d'avoir une photo! N'hésitez pas également à les commander directement sur la boutique en ligne de Santoro.
/EN
This May, I was contacted by Santoro London with a proposition to edit some of my artworks as greeting cards. I must admit, when I first read the e-mail, I thought it was a hoax. For years have I been visiting their website, checking out their prime collection featuring the likes of Gorjuss, who needs no introduction, Anne Cresci's Miss Butterfly, or again, the beautiful Mirabelle…
So, it is with a lot of enthusiasm that I accepted to take part in this new adventure!
Nine of my visuals will join Santoro's Eclectic Collection. I must say that I am thrilled about the visuals that were chosen, they are particularly dear to me: The Guide, Miss Shadow, Bliss, Mechanic of My Heart, Hope, Waiting for You, My Secret Garden, Poppies in the Sky, and Nature's Kingdom. You may see all the postcards in more detail at my Facebook page.
The greeting cards are printed on a beautiful, slightly textured art paper, with a short blurb presenting yours truly in the back. A special mention to Mechanic of My Heart card with its partial glitter coating. Each greeting card is sold with its coloured envelope featuring assorted motifs.
I don't know yet when these cards will become available in France, but if you run into them while visiting the UK and could snap a picture, I would be more than happy to see it! Do not hesitate ordering the greeting cards directly from Santoro's online store.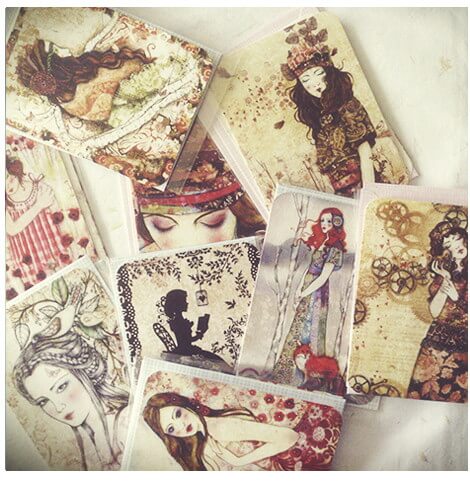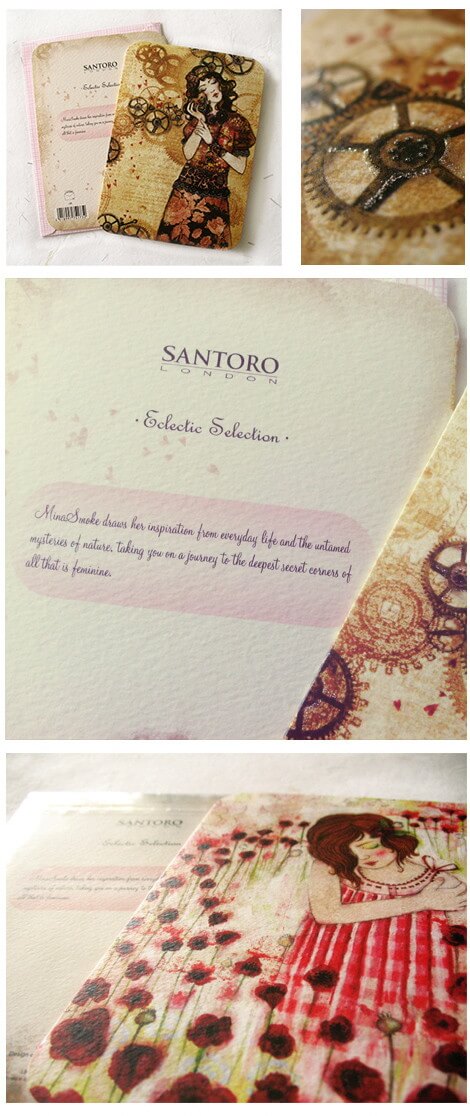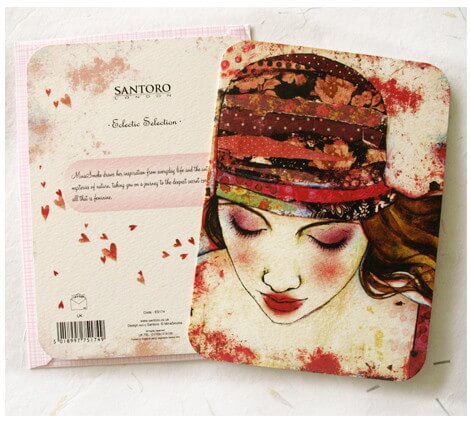 2 réponses à « Santoro London »