Broches | Brooches
07/11/2012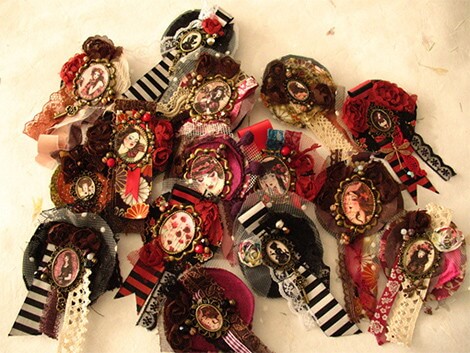 /FR
Cela fait plusieurs mois que j'arpente les salons créatifs et merceries pour trouver des rubans et tissus en vue de vous concocter de nouveaux bijoux. Je commence déjà à recevoir des commandes de clients qui font leurs achats de Noël, je me suis donc mise au travail dès maintenant pour vous proposer cette première collection de la saison de broches-cocardes. J'essayerai d'en réaliser une seconde début Décembre, mais rien n'est encore certain car je participerai à deux marchés de créateurs à cette période et je ne suis pas encore sure d'avoir le temps de créer assez de pièces pour tous ces évènements.
Les manchettes et colliers en tissu devraient être terminés dans une dizaine de jours. En attendant, profitez bien de ces broches qui seront parfaites pour orner un pull, un manteau ou un chapeau!
Les broches seront disponibles comme d'habitude sur ma boutique et Etsy.
/EN
I've been scouring art salons and haberdasheries of all kinds looking for tissues and ribbons to concoct new jewellery for several months. First Christmas orders start coming in, so I got to work on this season's first brooches collection now. I will try to make another collection in early December, but I can't promise anything as there are two designer fairs coming up and I am not yet certain to have enough time to make enough products for all these events.
The cuffs and fabric necklaces should be ready in a couple of weeks. In the meantime, enjoy these brooches that will gracefully adorn a sweater, a coat or a hat!
As usual, the brooches are available at my Etsy store.