Agendas 2013 | 2013 Diaries
07/09/2012
/FR
Vous avez été nombreux à me demander dès le début du mois d'Aout si j'allais sortir un nouvel agenda 2013. Il faut dire qu'à peine rentrée de vacances, je me suis aperçue que beaucoup d'agendas et calendriers 2013 étaient déjà en vente dans les boutiques. Je me suis donc mise au travail un peu plus tôt que prévu pour pouvoir vous proposer dès maintenant, non pas un, mais deux agendas 2013 !
/EN
Since the beginning of August, many of you were asking me if I would be releasing the 2013 diary. Upon my return from the summer vacation, I saw that there was a lot of 2013 diaries and calendars available. This early appearance of the next year's stationary inspired me to hasten the work on my not one, but two 2013 diaries!.

/FR
Le premier modèle est réalisé dans la continuité de celui de l'année dernière. Je vous ai sélectionné mes visuels préférés créés au cours de l'année (avec en plus deux inédits). Un visuel différent pour chaque mois avec un habillage graphique assorti, une page de note par semaine, un calendrier mensuel… Il comblera celles qui ont besoin de place pour écrire, qui aime la couleur et la matière…
/EN
The first version is a follow-up to the last year's diary. For it, I selected my favourite works of this year and added two previously unseen visuals. The diary features a different artwork with assorted graphic design for each month, a "Notes" page per week and a month calendar… It will satisfy those who need the writing space, who love the colour and texture opulence…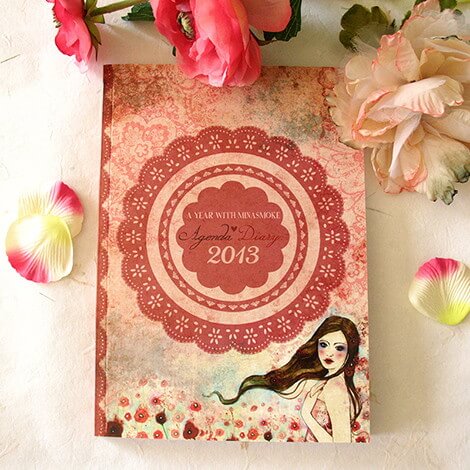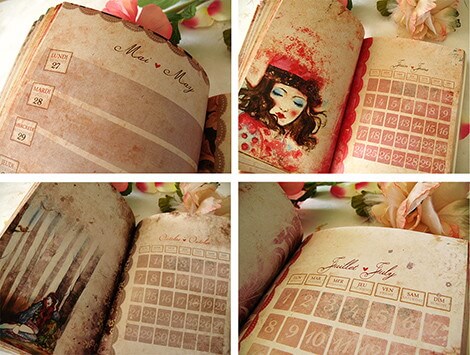 /FR
Le second agenda est réalisé autour de mon personnage en silhouette Miss Shadow. J'avais très envie de décliner un peu plus l'univers Miss Shadow, c'est enfin chose faite! Cet agenda est entièrement noir et blanc, dans un style un brin gothique-victorien. J'espère que ce nouveau modèle vous plaira également, il était pour moi important de réaliser ces deux projets que je trouve finalement assez complémentaires.
/EN
The second diary is based on my Miss Shadow silhouette character. I really wanted to expand the Miss Shadow universe, it is finally done! This diary is entirely black and white, in a gothic-victorian style. I hope you will like this version as well. It was important to me to accomplish these two projects, that are, in the end, quite complementary.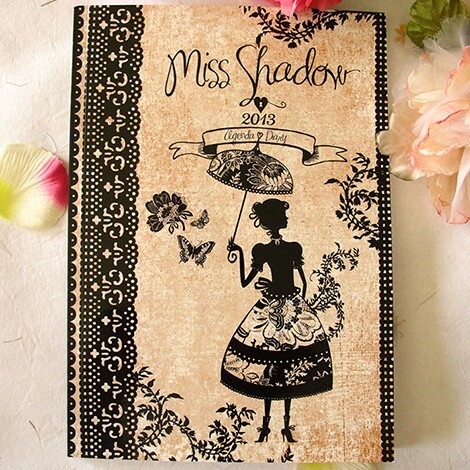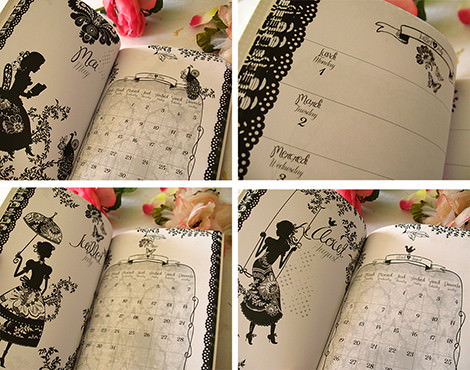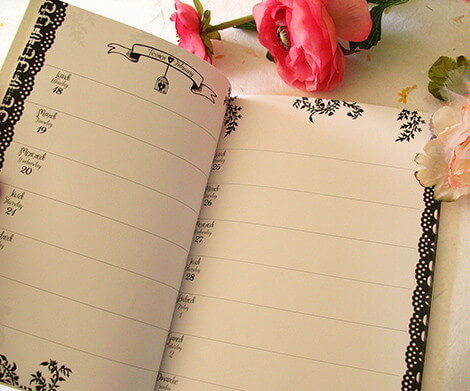 /FR
Ces deux modèles sont déjà disponibles en prévente jusqu'au 15 Septembre (la livraison des commandes se fera donc à partir du 15 Septembre) sur la boutique MinaSmoke et Etsy.
Je vous montre des images du calendrier 2013 et des nouveaux répertoires très prochainement !
/EN
You may pre-order both diaries until 15th September (shipped after 15th September) at my Etsy store.
I will show you the 2013 calendar and the new address books in the coming days!