A venir… | In the upcoming weeks…
28/09/2011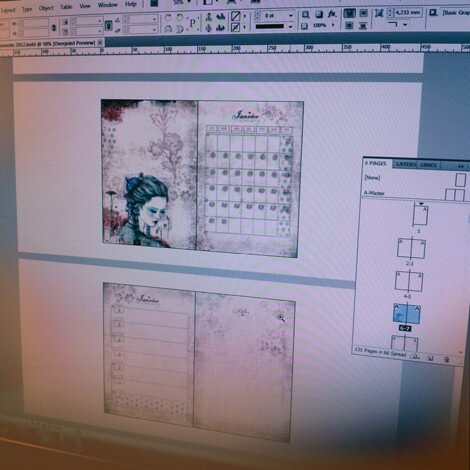 /FR
Bonjour tout le monde,
j'ai reçu dernièrement de nombreux mails de clients me demandant si j'allais éditer un calendrier 2012. Il est vrai que cette année, les boutiques regorgent déjà de calendriers ou agendas 2012, je pensais vous en parler lorsque le travail serait terminé, mais il serait dommage que vous ayez déjà tous acheté un autre calendrier entre temps !
Je vais donc comme les années précédentes éditer mon calendrier en édition limitée, mais pour apporter une petite nouveauté, je travaille également depuis le mois d'Août sur un agenda 2012 !
Ce nouveau support me prend un peu plus de temps que prévu car le travail de graphisme est plus important que sur un simple calendrier de douze pages.
Le calendrier et l'agenda seront réalisés comme deux supports assortis telle une collection.
Je vous ai mis en attendant un petit aperçu du mois de Janvier !
/EN
Hello, everybody,
recently, I received several e-mails from my clients asking whether I was going to publish a 2012 calendar. It is true that this year the shops are already filled with 2012 calendars and agendas, yet we are barely in October. I thought mentioning my calendar after the work was finished, but it would be a shame if you would already have bought one by that time.
Indeed, as the previous years, I am going to release a limited edition calendar. Also, to add some novelty, I am working on a 2012 agenda since August!
This new product is taking more of my time since the graphics require more work than a rather straightforward twelve-page calendar.
The calendar and the agenda are being made in a way as to form an assorted collection.
I am giving you the sneak preview of January while I am finishing these works.