Dragonfly Lingo
16/04/2010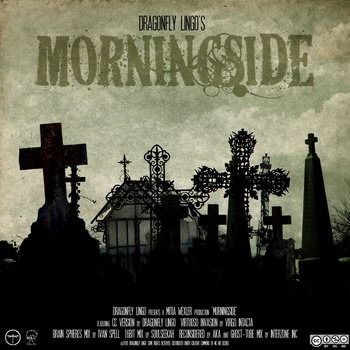 /FR
Je profite aujourd'hui du blog pour faire un peu de publicité au groupe de musique de mon mari Dragonfly Lingo.
Dragonfly Lingo sort aujourd'hui un album de remixes sous Creative Commons (c'est à dire téléchargeable gratuitement et légalement) Morningside regroupant 6 remixes dont 5 réalisés par des artistes de tout horizon et style musicaux. Je ne force bien sur personne à aller l'écouter mais si vous êtes sensibles au style électronique et industriel ou bien que vous êtes tout simplement curieux, n'hésitez pas à passer sur le site le télécharger !
Pour en savoir plus sur le concept de l'album, je vous invite à passer sur le blog ici (texte en anglais).
Si vous souhaitez écouter et/ou télécharger l'album, passez ici.
La couverture de l'album a été réalisé par la talentueuse Aby, son blog ici.
/EN
I am taking the advantage of my blog to talk about my husband's music project Dragonfly Lingo.
Today, Dragonfly Lingo released a remix album under Creative Commons license (which means you may download it absolutely free and share it with all your friends), containing 5 remixes by some very talented artists. I am not trying to force you to listen to it, but if you are an electronic or industrial music fan, or if you are just curious - don't hesitate downloading it!
To learn more about this very conceptual project, go to the Dragonfly Lingo site here.
To listen to and download the original album, go here.
The cover art is made by the talented Aby, visit her site here.